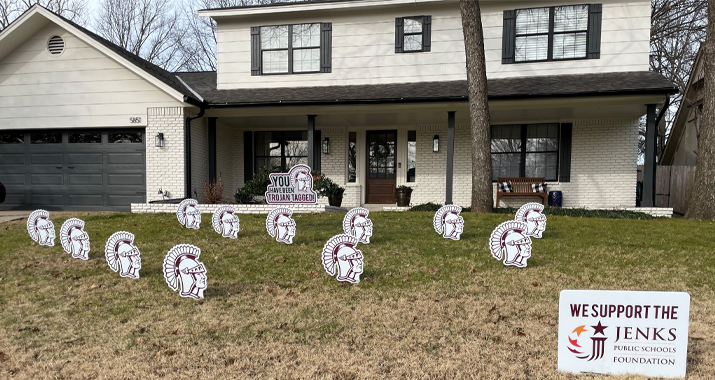 Tag You're It, Trojans!
Trojan Tag is a new JPSF fundraiser. We are partnering with Yard Love to spread surprises and school spirit across the community. Trojan Tags are $75 and there are two ways to play:
Tag yourself. Surprise your family with a 24-hour "Trojan Tag" rental for your front yard. The price includes 12 Trojan heads with a "You've Been Trojan Tagged" sign and a "We Support the Jenks Public Schools Foundation" leave-behind sign. OR you can Tag another Trojan family, teacher, or friend and surprise them with the Trojan head display and "You've Been Trojan Tagged" sign in their front yard. Of course, you can do both or purchase more than one Trojan Tag for multiple Trojan families.
Yard Love will "Tag" your chosen recipient after dark on your preferred date if the date is available.
Yard Love will pick up Trojan heads 24 hours later and "tag" the next Trojan family.
Trojan Tag is a fun and unique way to support the Jenks Public Schools Foundation! Place your order today by filling out the form below: